In 2022 how much does it cost to remove or knock down a load bearing wall?
Discover:
The process for knocking down a structural wall

Things to consider when knocking down a wall

Who needs to be involved

What walls can't be removed

How much it might cost you
If you have just bought a property or perhaps you have been in it for a while and are looking to renovate, removing a wall can be a game changer to any house if done properly but where do you start?
Who should you speak to first?
There is lots of conflicting advice out there how to do this, for example, the 'just knock it down and worry about it later' route (Dangerous) or  'It doesn't look like its a load-bearing wall' route.
The thought of knocking down walls might fill you with dread, but it could transform your house and change the way that you live your life!
It's a straightforward project, buts it's nice to know what steps you will have to take to make this happen, many people carry out work like this unauthorized which later comes back to bite them, for example, it can cause a house sale to be delayed or worse still….fall through! which may be an inconvenience to say the least.
Dont do it! its just not worth it.
But on a much more serious note, the consequences of knocking down a load-bearing wall without following the correct procedure could be disastrous, your house might fall down! not good:(
Contact Us Now
Why might you want to remove a load bearing wall?
OR any wall or that matter.
Open Plan Living.
The biggest reason by far is the desire for open plan living!
The way we live our lives has changed, we have moved away from living in lots of different little rooms to living in a much more social environment….big open spaces with lots of natural light, great for entertaining or just hanging out with family or friends
Most of us have been influenced to a lesser or greater degree by programmes such as Location, Location, Location (Kirsty is always wielding a sledgehammer, looking for a wall to knock down)
There is no doubt that removing a wall or two can have a dramatic impact on a flat or a house, a large kitchen/diner is on most people's wish list, it might be on yours!
Add Value.
You might also be a property investor or a savvy homeowner and are looking to add value to a property by reconfiguring the space, for example adding an extra bedroom.
If this is the case it will vary from property to property whether this will work financially or otherwise.
We at John Webster Architecture have been involved in many of these types of projects and have found it to work particularly well in traditional Edinburgh tenements where the space can be reworked to add value.
What types of properties are suitable for knocking a wall down?
The short answer is any type of property:)
However, there are some that lend themselves to this type of project more than others.
Houses (Detached & Semi-Detached)
Walls can be removed from properties of any age or construction type, an investigation will be carried out to determine if the wall to be removed is load bearing or not.
Houses that were built in the 60's and 70's are ideal as often something as simple as removing a wall will bring the property bang up to date.
Flats & Apartments
Walls can also generally be removed from flats, again following the correct procedure, flats require a very carefully survey, oftentimes the Structural Engineer will require to visit the property directly below & above to establish what has (if anything) changed from the original design.
Edinburgh Tenements are a prime example of this if you consider how many flats within these tenements are in their original state….not many!
Bear in mind that structural changes that you make in a flat can have an impact on flats below and above.
If a wall is non load bearing it can generally be removed without the need for a Building warrant, however, if the wall being removed is in a building with more than 2 storey's a Building warrant will be required whether the wall is load bearing or not
You can read all about it in the Technical handbook (from the Scottish government) here
You can click the link here to read about the potential problems that can occur if the structural integrity of the building is compromised.
The mains elements are:
External Walls
Internal Walls
Joists
Speak to us about removing your wall
The process in 3 simple steps
Step 1. Hire a Professional
There is a tried and tested process to follow to make sure that the work is carried out lawfully (+ you have an easy life & keep your sanity) and the appropriate paperwork and permissions are in place.
At John Webster Architecture we have carried out these type of projects many, many times and have developed a slick system to get this done quickly and efficiently.
Very rarely will this type of work require planning permission, unless it is a listed building.
If it is a listed building then listed building consent will be required, we will deal with that in a separate article.
Most people will have an idea of what they want before the wall is removed, if so the next step is to establish if what they want is feasible, at that point it would be advisable to appoint a construction professional, perhaps an Architect or an Architectural Designer.
Speak to us about removing your wall
They will act as your agent guiding you through the process until the building warrant is granted, they will do all the form filling, so you don't have to!
Upon appointment, they will arrange to visit your property, assess the wall in question and discuss your ideas. **Note: it may be that the wall removal is part of a greater project, for example moving a kitchen or bathroom, all of which will come under the works and therefore be 'warrantable'
Generally, the Architect will carry out a measured survey and take photographs to allow him to develop that initial concept into scaled drawings.
Whether the wall is load bearing or not it will still require the input of a Structural Engineer.
Why is this?
It's because the Local Authority will insist that a suitably qualified Structural Engineer will be required to confirm if the wall is structural or non structural.
IMPORTANT
If the Wall is Load bearing the Engineer will provide a suitable structural design along with an SER certificate.
If the wall is non-load bearing the Engineer will provide a letter or report to confirm that the wall is non-load bearing and the removal will not have a detrimental effect on the property.
"If a wall is non load bearing it can generally be removed without the need for a Building warrant, however, if the wall being removed is in a building with more than 2 storey's a Building warrant will be required whether the wall is load bearing or not."
The Structural Engineer will arrange a convenient time to visit your property. He is qualified to make a definitive call as to whether the wall is load bearing or not, this will usually involve some sort of intrusive investigation, it might be removing plasterboard at the wall head, having a look within the attic space and if it's possible to have a look under the floor.
**Note: All demolition work in flats require a structural engineer's input.
It's important to state that the type of wall be it timber stud or Masonry will not in itself tell you if the wall is load bearing or not.
You can find out Here Why you need a Structural Engineer and what they do.
If you want to make things easier for yourself make sure to hire a Structural Engineer that is SER registered.
You can read all about it here
Step 2. Get the Building Warrant
It can't be overstated that the most important thing is to establish whether the wall is structural or not.
As mentioned above, If the wall is Structural a building warrant will be necessary, if however, the wall is found not to be structural then no Building warrant is necessary, (except in the cases of property with more then 2 storeys) the Engineer will issue a report to state that the wall is not structural or load bearing and Building standards should issue a letter to state that the works are exempt from a building warrant.
If the wall is load bearing the Structural engineer will produce a suitable design to suit the new design scheme.
Some Local Authorities may charge a fee for this.
Whatever the case it is vitally important to have something in writing be it a building warrant or a letter to say the works are exempt from a warrant, this paperwork is a legal document and should be filed with the deeds to your house, this will ensure that there will never be any questions raised in the future regarding the legitimacy of the work that was carried out.
To get the building warrant granted the Structural Engineer will over mark the architect's drawings and produce an SER certificate which is (Structural Engineers Registration Ltd) required for a Building Warrant.
The Architect will then collate all the relevant information, ensuring full compliance with up to date building regulations and produce the final drawings to make a building warrant submission.
It's important to understand timescales, give yourself plenty of time to apply for a warrant!
Heading into 2020 a project like this will typically take 3 to 4 months from start to finish, depending on the complexity.
If it's super simple it may be possible to get it through a lot quicker, but it's important to stress that its down (mainly) to local authority turnaround times.
Find out Here how to apply for a Building Warrant…be warned its a bit wordy:)
Once the Building warrant has been granted and the work carried out in a satisfactory manner, an application can be made for a completion certificate, again this is a legal document and should be filed with the deeds to the property.
                                                                                                     At a Glance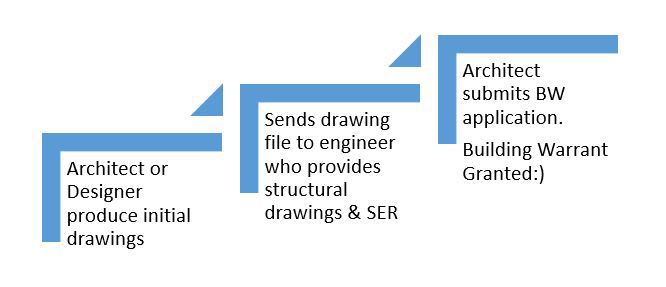 Step 3. Knock the Wall Down!
The Engineers and Architects drawings & notes will contain detailed information about what measures need to be taken before, during and after the wall is removed.
Can I demolish the wall myself?
It may be possible for a competent DIY-er, but it's much preferable to leave this type of work to experienced professionals.
They will have carried out this type of work many times before and have the equipment and know how to get this done.
It's advisable to check your insurance cover, both your own buildings insurance and the contractor's insurance.
Ask Us About a Fast Track Building Warrant
How much will does it cost to knock down a load-bearing wall?
There are several fees involved.
Building Warrant Fee-Payable to the Local authority
Architects Fee
Structural Engineers Fee.
The cost of removing the wall
The building warrant fee is set by the Scottish government, these fees are related to the cost of the works and start at £150.00, and this covers you up £5000.00 value of works. A 10% fee reduction (Local Authority fee) when a building warrant application is accompanied by an SER certificate.
The Architect or Designer's fee will vary from location to location, the Structural Engineer's fee will also vary from area to area, generally, they will offer a fixed fee for small projects such as these.
Sample Real-life wall removal project
Structural Drawing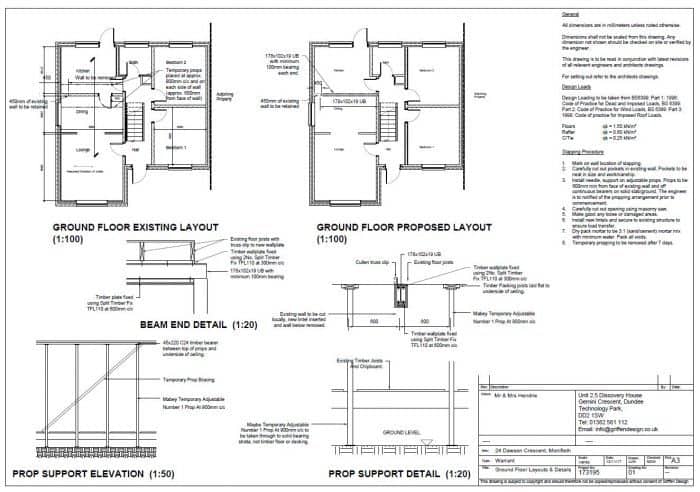 Architectural drawing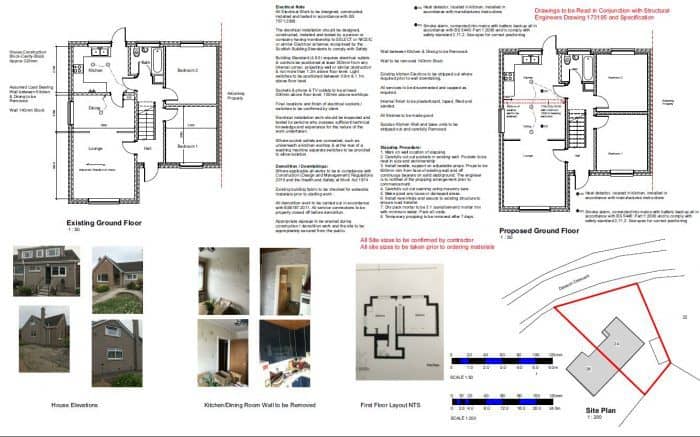 The cost to knock down a load bearing wall
Project
Load bearing wall removal between kitchen & dining room
Costs
| | |
| --- | --- |
| ARCHITECTURAL FEE | £795 |
| STRUCTURAL ENGINEER FEE | £650 |
| BUILDING WARRANT FEE PAYABLE DIRECT TO LOCAL AUTHORITY | £150 |
| TOTAL FEES | £1595.00 |
The Actual Cost to knock down a wall can vary significantly depending on the extent of the work.
Generally, the Cost for removing a structural wall may vary from £800.00 to £5000.00.
We have a network of Great Builders that we use to carry out this type of work.
Here are the steps again, in case you forgot:)
Step 1. Appoint an Architect and Engineer
Step 2. Get the Building Warrant.
Step 3. Knock the Wall down.
Enjoy your new space!
So, now you know the process of knocking down a wall and how much it costs, however, I would love to hear any questions that you have about this, happy to help.
Contact me Here
We have a great contact network and can carry this type of Architectural work out in Most parts of Scotland.
We require 1 visit to the property and the rest of the work can be carried out remotely.
email us john@jwarch.co.uk
You might find these resources below helpful:
Finally, if you would like to discuss your project further you can take up our offer to get your FREE  'Ask the Expert' call.
Click here to arrange a call!