Internal Alterations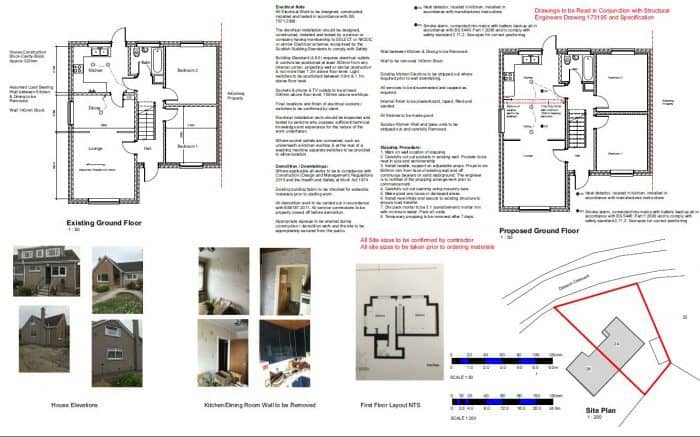 Internal Alterations to an Existing house
Do you want to unlock the true potential of your house or flat?
Would you like to create an open plan kitchen – Diner, perfect for entertaining?
Sometimes you don't need to build to get extra space, it's surprising what results you can achieve when you re-work the existing space.
Its true that we live differently than we did in the past, you might want a large dining kitchen room that is light and bright, perfect for the family & great for entertaining, this can very often be achieved by re-formating the existing house or flat layout.
An internal renovation project can be exciting, bringing new life to your house in ways you may never have imagined before, but you want it to be stress-free, so you can enjoy this process.
Your Renovation project doesn't have to be complicated, we want you to see how simple and logical the steps are.
To help you achieve this we follow the RIBA Plan of Work as closely as possible, this is a comprehensive step by step guide (the guide itself tends to be a bit wordy as its written for Architects) so we have broken the steps down into plain English for you.
We want to give you, the homeowner, the experience that you deserve when designing your Internal Renovation project, so we have outlined for you the specific steps that we follow regardless of the size of a project.
Please look at our Architectural Fees page to see how much these services are likely to cost.
Timescale may be important to you; for example, how long does it take to get planning permission and a building warrant for my Renovation project?
Again, there are no set times for this, a lot will depend on the complexity of the project and how fast you would like to go, but typically for a Renovation project a minimum of 6 months is required to obtain both planning permission and a building warrant.
In most cases, though Planning Permission will not be necessary for internal alterations unless you live in a listed building or a conservation area.
Service Levels
The Architectural service that we offer to our clients is flexible and you can choose a service package to suit you, the following are the packages we recommend depending on how much you would like to be involved.
We offer the following services:
Gold Standard-Full Service package.

Silver Standard-Planning, Design & Building Warrant.
Gold Standard – Full-Service Package
This service is for you if you don't want the 'Hassle' of dealing with a builder & has been designed to reduce your risk during the construction phase of the building project. Perhaps with work and family you simply don't have the time to deal with everything, maybe you would like us to work with you and implement our tried and tested system to make sure that you get the best contractor and the best value for money. For further reading please see our Contract Administration page.
This is a full turn-key service package that means not only do we obtain planning permission & a building warrant, but are present for the entire duration of the construction process.
Silver Standard – Planning, Design & Building Warrant
This service is for you if you are experienced & skilled in running & administering a building project, it may also be for you if the works are minor, for example replacing a window with patio doors or a simple garage conversion. Please read our Minor Works page for further information on this.
This service package takes you from the beginning of your House Extension project all the way through to the Building Warrant being issued. When the Building Warrant is issued you are legally entitled to build.
Silver Standard
For smaller projects or more experienced clients
Needs & Options Review
3D Design
Design Development
Planning Permission
Building Warrant
Contact us
Gold Standard

For larger projects or clients who want minimum hassle
Needs & Options Review
3D Design
Design Development
Planning Permission
Building Warrant
Prepare Tender Documents
Assist Selecting a Builder
On-Site Supervision
Regular Site Visits
Issue Variations
Assist Prepare Snagging List
Obtain Completion Certificate
Contact us
Internal Alteration Process at a glance
Below shows the sequence of steps that make up the process to a successful building project, typical timescales for each element are also highlighted:
Stages 1 & 2

Feasibility Study – Needs & Options Review
(2 weeks)
Design & Planning Application
(12 weeks)

Stages 3 & 4

Building Warrant
(12 weeks)
Pre-Construction
(4 weeks)

Stages 4 & 5

Construction
(12 weeks)
Post-Construction (Snagging)
(8 weeks)
If you would like a further explanation of these specific steps, please read on.
1) Feasibility Study -Needs & Options Review. The MOST IMPORTANT phase
This is a Fact-finding discussion between you (the client) & John Webster Architecture to establish project constraints, your Budget and when you expect to start & finish the project.
Some clients can provide us with a brief and are very clear what they want, others are not so sure, either way, don't worry, this stage will help you get the clarity you need to move forward.
We spend a little more time on the research than most other firms who rush their clients into the design phase.
The first step you will need to complete is Needs and Options review*.
We designed this process a few years ago because we there is a huge issue in the construction industry of people starting design and construction before they have fully done their research and homework.
People are trying to run before they have the walk mastered.
The consequence of inadequate upfront research of needs and options is like building a house on bad foundations. The foundations are the most important part of the whole house because everything is built on top. It's very expensive to change the foundations once you have started to build on top of them. But very easy to change them if they are simply lines on a plan!
At the end of this stage, we produce a report that will clearly outline your objectives (Needs) and determine what your options are. (in some situations, there may be a variety of options open to you)
This is RIBA plan of works stage 0 & 1.
This process is designed to remove assumptions and reduce the risk to you.
*Where we offer a fixed fee when the works are minor in nature and no initial site visit is required then no Need & Options Review is required.
2) Design & Planning Application Submission
The design & planning stage is based on the outcome of the feasibility study.
The clarity that the feasibility stage gives will assist in being able to develop a design that you love & more importantly fit your budget!
We will draw up the initial design and, with your input (the client), will continue to tweak the design until you are 100% happy. (after all it's your house)
All our projects are done in 3D which further reduces your risk as you can see what you will get before you are committed to building it.
No more meaningless line drawings that are impossible to understand!
The drawings are then developed to a standard where a Planning application can be made.
The planning officer may request supplementary information to support the planning application such as drainage arrangements Etc.
A Planning Fee is paid directly by you to the Local Authority (Currently £202)
Once the Planning Submission has been made it will be validated by the Local Authority planning department and generally takes around 8 weeks for a decision to be made as to whether Planning permission will be granted or not.
(if the initial planning application is unsuccessful a modified design can be submitted that is more likely to get planning approval OR the decision can be appealed)
Once planning has been granted the next stage is to apply for a Building Warrant.
This is RIBA plan of works stage 2 & 3.
3) Building Warrant
Every House extension project that is carried out in Scotland must comply with Building Standards.
"Scottish Ministers are responsible for creating Building Regulations and preparing technical guidance to ensure buildings are safe, efficient and sustainable for all. … This gives helpful guidance to those who intend to carry out building work and where to seek help".
We will ensure that your House Extension project meets the standards required, your design drawings will be further developed into technical drawings that demonstrate compliance with these building regulations.
Technical guidance is provided by the Technical handbooks, below are the main areas they cover.
Structure
Fire
Environment
Safety
Noise
Energy
Sustainability
Once the drawings are completed a building warrant application is submitted to the local authority building standards department.
A Building Warrant fee is paid directly by you to the Building Standards department of the local authority (Building Warrant fee is related to the cost of the works)
For further reading please Refer to How Much Does a Building Warrant Cost?
When the Building Warrant has been granted the documents will be issued along with  Construction notification plan.
At this point, you are legally free to begin construction.
This is RIBA plan of works stage 4.
4) Pre-Construction
What is Pre-Construction? What does it involve?
This is the stage in the lead up to the actual construction, its when we prepare all the documents that will allow you to get the best value. We prepare a 'List of Works' document that details every element of the project from light switches to doors.
A tender pack is assembled (this contains all the documents that will allow a contractor to give the most accurate price) to send out to chosen contractors, normally 3 different contractors.
Once the tenders (prices) come back we will assist you in choosing a suitable contractor for your project.
This is also RIBA plan of works stage 4.
5) Construction Stage
Once the contractor has been appointed, a construction contract will be set up between you (the client) & the Builder.
We use the SBC Homeowner Contract (With Consultant) (June 2013).
See a sample contract here: http://www.sbcconline.com/documentsample.aspx?docId=45
We then act as Contract Administrator, which means that we visit the site on a regular basis (normally once per week), also (but not limited to):
This is what we do!
Agendas for site meetings
Issuing interim certificates
Contract Administrators Variations
lead a weekly project meeting and review the progress of construction.
Confirm that the contractor is carrying out the project in line with the design and spec. You will want us to confirm that the building contractor is building your project as per our construction documents.
Available to resolve quickly any unexpected or unforeseen conditions, this means that site continues to progress & delays are kept to a minimum.
Review your payments to the contractor, so you have more leverage or power during the construction stage. This leverage (Power) will allow us to protect your interest and makes sure that you only pay for what the work is worth at any given time.
Assist with preparing of the snagging list and see that the Completion Certificate is issued.
We are legally responsible for their health, safety, and welfare and must confirm that all HSE (2015 CDM) regulations are being observed.
As professionals, it is our firm's policy to be involved in the construction of every project, for the many reasons described above.
This is RIBA plan of works stage 5.
6) Post Construction (Snagging)
We will assist you to compile a snagging list of defects that require being made good, the contractor will have a period where he is obliged to rectify these issues. Once this has been completed the retention (final payment) will be paid to the contractor. We also liaise with building standards for your all-important completion certificate to be issued.
This is RIBA plan of works stage 6.
Once this stage is completed you can enjoy your new space.
*John Webster Architecture are not a firm of Architects, we are proud to be a firm of Architectural Technologists that specialize in residential construction projects.