What is the cost of Loft/Attic conversion in Edinburgh?
This article will help you understand what the true cost of a loft conversion is & if it will add value to your home Edinburgh.
At John Webster Architecture we design lots of Loft Conversions, these can be a great way to add space, especially if land is at a premium, they can also add value to your property too.
In 2019 the typical price range is from £30,000 for a very basic Loft Conversion to £100,000+ for a top end Loft Conversion.
We will work through each step of a Loft Conversion project (in a logical fashion) to help you understand what the costs are and who you will pay your money too!
As with anything in life, it makes sense to work out the cost before you jump in, you need confidence that you can afford it!
First Step- Is my loft/attic suitable for conversion?
This part is critical, you really need to find this out as early as possible, if a Loft conversion isn't feasible then there is little point engaging professionals to undertake drawings, etc.
The good news 🙂 is that most Lofts are suitable for conversion-albeit with varying degrees of expertise, cost and work required.
Speak to a Professional
Its a good idea to get a construction professional to carry out a feasibility study, in other words to let you know if it is possible and the level of work that will be required to make this happen, this will be money well spent, as this will give you an indication very early on of what the costs might be.
Who can do this for you?
Architect
Architectural Technologist
Structural Engineer
Perhaps a bigger question is Will a Loft Conversion make sense for me-Financially?
What do we mean?
If your loft conversion is a straightforward project then the chances are that it will be a good investment for you and be a great use of the space, however, if your loft requires extensive structural work (maybe even new roof trusses) then this will cost more.
You will need to do the maths to work out if this will make sense for you financially, are you going to get a return on your investment? For example, if your house is worth £300,000 and you spend £50,000 but the ceiling price on your street is £320,000, then you might question whether a loft conversion will make sense for you.
You might have to ask if there is a better alternative, would an extension make more sense in terms of cost for you?
Sometimes a loft conversion is the only choice, if you are tight for space then the only way may be up!
For some clients though it's not about the budget or cost, it simply has to work for them, it's all about the space that they will gain from a loft conversion, some clients want more space, they don't want to move, they love their house, in this situation it makes sense for them.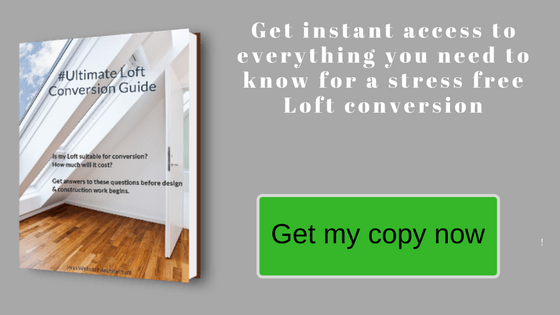 Below are tables to give you an indication of what your loft Conversion might cost. However, this guide cannot give you an exact figure as each project is unique and as such the cost will only apply to that specific project.
Indicative costs for typical Loft Conversions in Edinburgh, East Lothian & Midlothian
Location
Type of Conversion

Cost per m2

(based on 30m2)

Total Cost
Edinburgh
Velux Windows
£1200
£36,000 + VAT
Edinburgh
Dormer
£1500
£45,000 + VAT
Indicative costs for typical Loft Conversions in Dundee, Angus, Fife, Perth and West Lothian
Location
Type of Conversion

Cost per m2

(based on 30m2)

Total Cost
Dundee
Velux Windows
£1000
£30,000 + VAT
Dundee
Dormer
£1300
£39,000 + VAT
As with any building project, many things influence the cost, the geographical location, the specification, and finish etc.
Second step-Design & Planning
Once you have worked out if your Attic is suitable for conversion & done some basic maths to see if it's within your budget you can now push on and get the design drawings done.
An Architect or Architectural Technologist will be able to do this for you.
How much will it cost to hire an Architect or Designer to design your Loft Conversion?
This will depend on the extent of the services that your Architect or Designer offer or the extent of services that you want.
Do you want help to get all the approvals (Planning & Building Warrant) or would you like to hire the architectural firm all the way through the approvals & construction phase?
At John Webster Architecture we offer 2 service levels:
A Silver Standard
A Gold Standard
Find out more about these services here for your loft conversion Project.
Click Here to find our full pricing structure.
The table below will give you an indication of the costs for design, planning, building warrant & construction stages
Indicative Fee Table
Stage 1
Stage 2
Stage 3
Stage 4
Stage 5
Stage 6
Needs & Options Review (Feasibility)
Design & Planning
Building Warrant
Tender
(Pre-construction)
Construction
(Site supervision)
Snagging
Basic Bungalow Loft Conversion *
£199
£900
£1300
£900
£2400
£400
Two Storey House Loft Conversion **
£249
£1200
£1800
£1000
£2900
£500
* This assumes a basic Bungalow Loft conversion, excluding bathrooms, ensuites or Utility rooms.
** This assumes a two Storey House Loft Conversion, including either one bathroom or ensuite.
Planning Fee
The current cost of a planning application in Scotland is £202
Does my Loft Conversion require Planning Permission?
This will depend on what type of Loft Conversion you have in mind whether its a:
Velux Loft Conversion
Typically a Velux Loft Conversion will not require planning permission unless it's a listed building or if you are in a conservation area
 Dormer Loft Conversion
A Dormer Loft Conversion will normally require planning permission
The Velux loft conversion & Dormer Loft conversion are the 2 main types of loft conversion, mainly because they are straightforward projects and they make financial sense, however, there are other types of loft conversions.
Hip to Gable
New Roof Trusses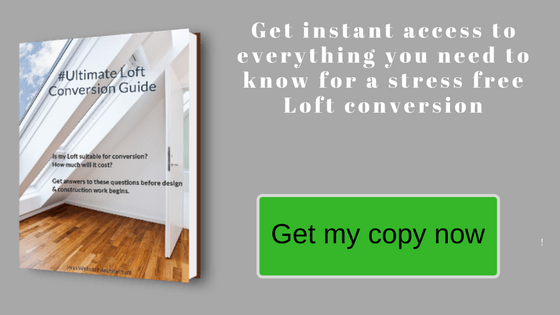 Third Step-Structural Engineer & Building Warrant
Structural Engineer
Every loft conversion project requires the input of a structural engineer and its also true to say that whether your loft conversion project requires planning permission or not it will require a building warrant.
You can find out all about What a Structural Engineer does and why you need one Here.
You can read about why you need a Building Warrant Here
Depending on the existing roof structure or how radically different you intend to make things will have a bearing upon the structural design, this can potentially be where a lot of the budget gets eaten up.
Normally a roof is designed to be just that, a roof! Fine for storing your Christmas tree but generally it is not designed for habitation and all the extra loading that will be put on it.
A Structural Engineer will need to be engaged to complete the new structural design for the loft conversion, there is no 'one size fits all' solution, each project will be unique so therefore a structural design specific to the project will be required.
Building Warrant
Do I need a Building Warrant for my Loft Conversion?
Regardless of whether your loft conversion requires planning permission or not, you will need to obtain a Building warrant for the work that you intend to carry out.
The Planning department & Building standards are 2 separate departments because planning permission is not required does not mean that you are exempt from obtaining a building warrant or building regulations approval.
A building warrant is a legal document in Scotland that gives you permission to commence building work or to convert a building.
A building warrant is required for nearly every construction project, large or small regardless if you are building an extension or knocking down a load bearing wall, or in this case a Loft conversion project.
Your Architect or Designer will draw up detailed technical drawings for submission to the local authority Building standards department, this will then receive an initial assessment by a building standards surveyor against the requirements of the Building (Scotland) Regulations. The guidance contained in the latest Technical Handbooks will help the assessment of your plans.
Building warrant fees are set by the Scottish government and are therefore the same no matter what local authority is administering your building warrant.
The fee is payable by you, direct to your local authority building standards department, the fee is directly related to the cost of your loft conversion project.
Click here to work out your building warrant fee.
(the link is for City of Edinburgh but can be applied to any local authority in Scotland)
Step 4-Construction Phase
The construction costs are by far and away the most expensive stage, all other costs are small in comparison, that is not to say the design phase is less important, it's more important.
The chances are that you will only get one go at this, so it's super important to get it right.
Typically construction costs will range from £20,000 for a very basic loft conversion all the way up to £80,000 for a more detailed loft conversion.
The cost will depend on whether it a small bungalow, detached house, new house, period house or a flat.
It's a good idea to hire a contractor that has done lots of loft conversions before.
There are ways to keep the cost down a little, for example instead of hiring a main contractor you can hire the trades individually and manage this process yourself, but be warned, this is not for the faint of heart, you will need the right knowledge and skill set to get this right, not to mention the time!
Real Life Example Loft Conversion Project
We have included the following 'Real Life' Loft Conversion project that we designed and overseen, this will help you appreciate what the costs are on a project like this.
The following costs are for a bungalow loft conversion, incorporating Velux Cabrio balcony windows, lounge area, bedroom area & bathroom. This project took 8 weeks to complete.
| | |
| --- | --- |
| COST OF BUILDING WORK | £36,000.00 |
| Architectural FEES (including construction supervision) | £5850.00 |
| STRUCTURAL ENGINEER | £1200.00 |
| BUILDING WARRANT FEE | £593.00 |
| VAT | £7200.00 |
| TOTAL | £50,843.00 |
Here are the areas we carry out loft conversion projects in:
City of Edinburgh Council
East Lothian Council
Midlothian Council
West Lothian Council
Perth & Kinross Council
Fife Council
Dundee City Council
Angus Council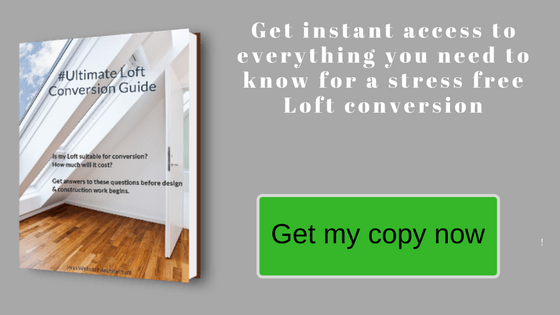 So by now, you will have a good understanding of the different stages of a Loft Conversion & how much a Loft Conversion will cost.
If you are ready to move forward with your Loft Conversion Project or if you need questions answered, send me a message and we can arrange a chat, alternatively book a call with me here.